Wolf Ammo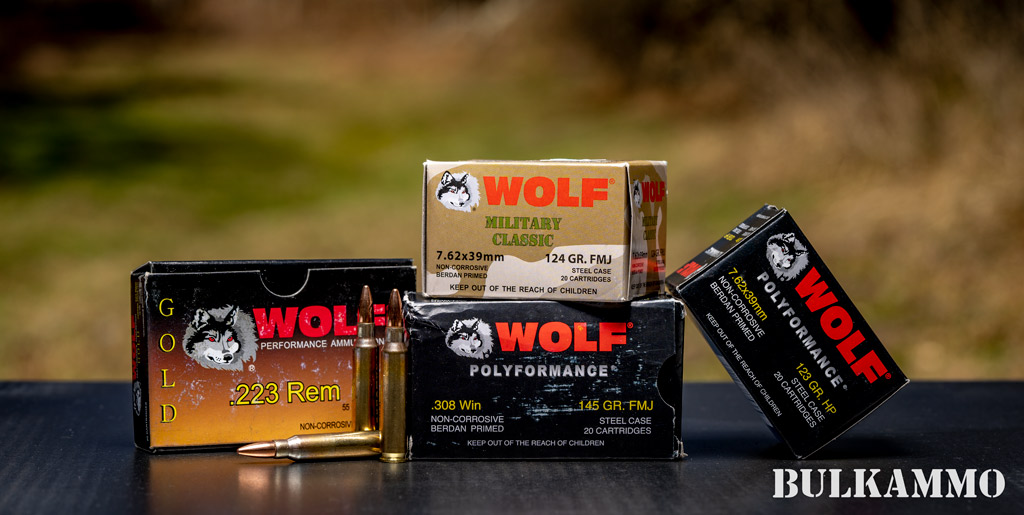 Since 2005, Wolf Performance Ammunition has been one of the world leaders in high quality affordable ammo. Wolf ammunition is made under a trademark owned by SSI, Sporting Supplies International. They make ammo for multiple firearms and in many calibers, plenty of components for reloading, and they offer shooting gear such as gun cases as well.
Wolf products bring high quality components, accuracy, terminal performance on par with more expensive ammo, and a massive selection of calibers and configurations to the table. Plus, all Wolf ammunition has a 100% quality performance guarantee and they will buy the remaining ammo from the customer if they are not fully satisfied. You can't really ask for much more than that.
Originally, most Wolf ammo was made by the TULA Arms Plant in Tula, Russia. From 2005 until 2009, this was the way Wolf ammo was manufactured. But from 2009 on, Wolf has been produced in various other European countries and continued to flourish.
In 2005 through 2006, the United States found the supply of surplus 7.62x39 ammo from Russia and other countries was starting to dry up; there was the start of a shortage. At the same time, the United States military was trying to outfit and arm a military force that was just getting started in Afghanistan. There were further problems with supply and demand when the AK-103 rifle series was adopted by the Venezuelan Military and the Russian ammunition plants couldn't keep up with their demand and the demand of their own militaries. Thanks to Wolf, Tula and other overseas manufacturers, we're now fortunate that in most years, we have plenty of bulk 7.62x39 ammo in the USA for all of us to purchase and stock up on.
Wolf's WPA Military Classic Ammunition
Wolf currently makes a different types of Wolf branded ammunition available for sale. There is the extremely popular Wolf Performance Ammunition or WPA Military Classic Line that includes these rifle calibers: 5.45X39, .223 Remington, 6.5 Grendel (w/ Combat Coating), the ever popular 7.62X39, a few types of .308 Winchester, a couple of .30-06 Springfield loads, .303 British, 7.62X54R-DUO, 7.62X54R, 7.62X54R Extra Match (Match Grade ammo w/ brass case), and the 12.7 X 108 (Com-Bloc .50 Caliber Ammo w/ brass case).
Most of Wolf's rifle rounds come in Hollow Point or HP, Soft Point or SP, or the well-known Full Metal Jacket or FMJ offerings. The WPA Military Classic line also offers a handful of pistol calibers such as the 230 grain Bimetal FMJ .45 Auto (ACP), the 9mm Luger (9X19mm) in Bimetal 115 grain FMJ, the 94 grain Bimetal FMJ .380 Auto (ACP), the 9X18 Makarov in 94 grain Bimetal FMJ, and the .40 S&W 180 grain Bimetal FMJ rounds.
The Military Classic line was built to offer affordable ammo in classic military calibers so that anyone could buy and shoot these rounds without spending a lot of cash. They are value priced, so you can also stack multiple cases of them in your safe without worry, and they are easily stored away so you can shoot them later on down the road.
As you might've guessed, WPA Military Classic Pistol cartridges only come with Full Metal Jacket loads and it's not uncommon when you're at the firing line at the range to see a lot of shooters blasting through relatively cheap ammo from Wolf.
Wolf Performance Ammunition
The Wolf Performance line of ammo is rather simple because it only has one caliber offering, in two bullet types, and in two configurations.
Wolf offers 7.62x39 in the 123 grain Bimetal FMJ or Bimetal Hollow Point (HP) with the steel cased cartridge that is primed with a non-corrosive Berdan Primer. The other type is another 7.62x39 123 grain Bimetal FMJ or Bimetal round with the steel cased cartridge with non-corrosive Berdan Primer, but this one has the Military Spec lacquer coating that provides a waterproof seal on the case mouth and the primer pocket.
Wolf Gold Ammunition
The Wolf Gold line of ammunition is a high quality and high-performance brass cased line of ammo. Wolf Gold ammo is made to strict standards, so it will perform in all of the modern sport caliber rifles and military rifles as well. Wolf Gold uses prime components, so you can use the cases time and time again for reloading.
Wolf Gold's rifle caliber options include: .22-250 Remington, .223 Remington in 55 grain and 75 grain, .243 Winchester, 5.56MM or M193 caliber, 6.5 Grendel in 120 and 123 grain, 6.5X55 Swedish, 7.5 X 55 Swiss, .30-06 Springfield, .270 Winchester, 7MM Remington Magnum, .308 Winchester, 30-30 Winchester, 7.62X54R and 150 grain and 180 grain, 303 British in 150 grain and 170 grain, 8X57 or 8MM Mauser, and 300 Winchester Magnum.
Wolf Gold is also offered in eight different pistol calibers as well. These calibers include .32 Auto , .380 Auto, 9MM Luger or 9x19MM, .40 Smith and Wesson, .45 ACP or Automatic Colt Pistol, and the awesome 7.62 Tokarev round. They also manufacture .357 Magnum in 158 grain SJHP (Semi-Jacketed Hollow Point) and .44 Magnum in 240 grain JHP (Jacketed Hollow Point) for all of the revolver and lever gun fans out there. The impressive muzzle velocity and hard-hitting muzzle energy of each of these rounds, coupled with the superb accuracy of each round makes Wolf Gold stand out in the ammo business.
Wolf Polyformance Ammunition
The popular Wolf Polyformance polymer-coated steel cased ammo is built to ensure reliable function in semi-auto platforms. It comes in many of the same calibers that the Military Classic line comes in such as: 5.45X39, .223 Remington in 55 and 62 grain, the famous 7.62X39 in 123 and 125 grain, .30 Carbine, .308 Winchester, and two 7.62X54R options in 174 grain and 200 grain. Wolf Polyformance also produces pistol ammo in .380 ACP, 9x18 Makarov, 9x19mm or 9MM Luger, .40 S&W, and .45 Auto/ACP.
The Wolf Rimfire ammunition line is also available and comes in two distinct configurations of 22LR or 22 Long Rifle. One option is the .22LR Match Target with a 40 grain solid round nose bullet. The other offering is the .22LR Match Extra with the same 40 grain round nose solid lead bullets. Either round is an ideal choice for target practice, plinking with friends and family, or Olympic type target competitions.
You can't go wrong with Wolf if you're looking to get some bulk ammo for extended range training. Stock up now and you'll be set for your next range trip.
In Stock Wolf Calibers for
Sale Today!
Latest Reviews