Speer Ammo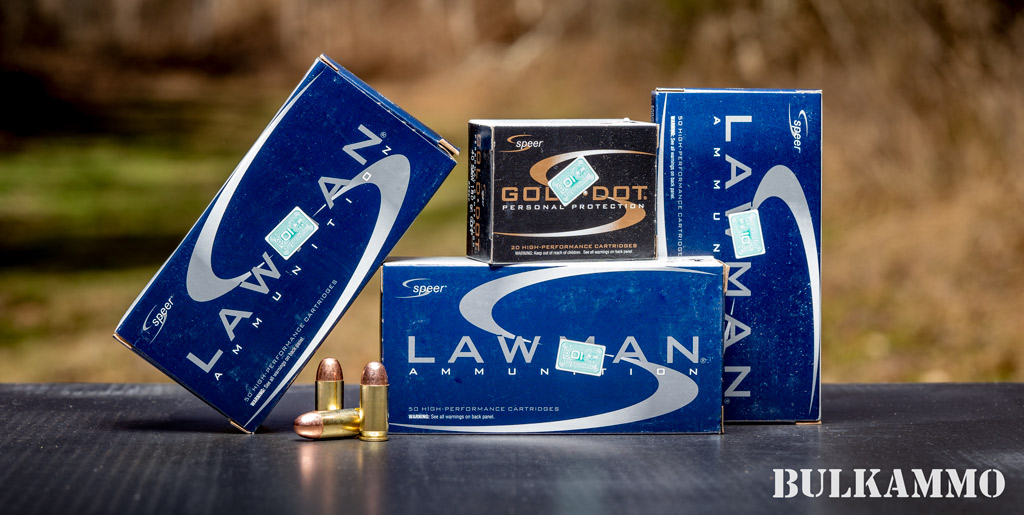 You know that conversation you have amongst your friends that all carry a concealed handgun? The one where your buddy asks: "What kind of gun do you carry?" You tell him what type of handgun you carry, and you discuss what he carries. But, that question usually leads to another question: "So you're carrying that handgun, but what type of ammo are you packing it with?"
I'm sure you've been there, we all have… at least all of us who carry concealed firearms have. When you answer, the person asking always has to tell you what they carry and what ammo they have in it. From there, Speer Gold Dots are often the rounds trusted in that concealed carry pistol.
In case you don't know why, it's because the Gold Dot Hollow Point round is a very reliable and well-made round. It does exactly what its supposed to and performs as advertised. But really, the popular Gold Dot Hollow Point line of ammo from Speer is just the tip of the iceberg when it comes to the history and the products that they offer.
Speer Ammunition History
In 1943, Vernon Speer saw the need for quality cartridge components. It was widely known that the ammo companies of that period wouldn't sell bullets to civilian shooters because of World War II. The average shooter couldn't simply acquire the cartridge reloading parts they needed for their cases. So, Vernon Speer solved that problem. He started making ammunition components, specifically, hunting rifle bullets.
Even though Speer's initial offerings were hunting rifle bullets, his jacketed handgun bullets were specifically designed for hunting and could also serve law enforcement purposes. Taking notice of law enforcement ammunition requirements and what was available, in 1960 he loaded some of his mass-produced jacketed handgun bullets into previously loaded cases.
These complete cartridges would come to be known as the Lawman line of cartridges. Even though they were originally brought to market in the 1960's, the Lawman line has grown and evolved with the years. Today, the Speer ammo line exists under the Vista Outdoors umbrella along with well-known companies such as Federal Premium, Independence, American Eagle, CCI, and many other brands.
Today, Speer is based alongside CCI in Lewiston, Idaho.
Specialized Bullets for Discerning Shooters
If you are the type of shooter that not only prefers custom loaded rounds, but also loads them yourself using time-proven components you chose yourself, then the Speer bullets are perfect for you. Speer manufactures bullets for self-defense, varmint, target shooting, and hunting. Multiple calibers are available, and plenty of grain weights are also available.
Training and Duty Ammo from Speer
Speer offers multiple cartridge lines for training and duty purposes, including the famous Speer LE Gold Dot Duty Ammunition, the Speer LE Gold Dot G2 Duty Handgun line, Speer LE Gold Dot Short Barrel Duty Ammunition, Lawman RHT Ammo, Lawman Clean-Fire Ammo, and Lawman Ammo.
For bulk shooters looking to train, the Speer Lawman ammo line has many special features that make it a smart choice. Lawman features reloadable brass cases, clean burning powders, the awesome CCI primers, and the solid lead core bullet has a one-piece copper jacket or TMJ.
Speer for Self-Defense
The Speer Gold Dot LE Hollow Point round has many important features that separate it from the pack as well. It features a Uni-Cor Electrochemical process that bonds the core of the bullet to the jacket, an alloyed lead core, a nickel-plated brass case, clean burn powders, and the always reliable CCI primer system. With over 20 years of use in the law enforcement world, and multiple departments that use their rounds daily, it's easy to see why they are popular among officers. There is a good reason why Speer Gold Dot LE cartridges are the number one choice of police departments and government agencies across the United States. Find out for yourself today.
In Stock Speer Calibers for
Sale Today!
Latest Reviews