PMC Ammo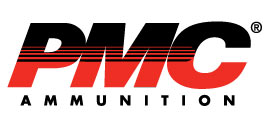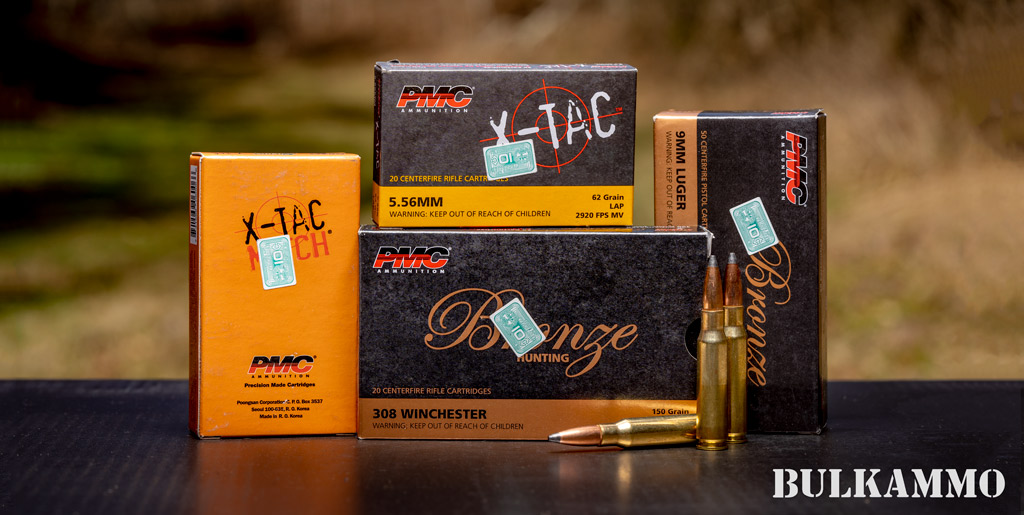 PMC ammunition is known in America by shooters as a premium range ammunition that utilizes top tier brass and components manufactured in house by the company. They have long been considered a go-to option for bulk shooters looking get a lot of shooting in without the frustration that can come with cheap range ammo. PMC historically marketed and produced mainstream cartridges (such as .223, .45, 9mm, .38 Special, .44Magnum, and the like) for this American market.
PMC's Ammunition Lines
Here at BulkAmmo.com, we carry two primary lines of PMC ammunition for sale.
PMC Bronze
PMC Starfire
PMC X-TAC
PMC Bronze is PMC's line of full metal jacket range ammunition. These rounds are well-known by American shooters for quality, cheap price and frustration free bulk shooting.
Starfire is the self-defense cartridge produced by PMC for most major handgun calibers. Loaded with jacketed hollow point projectiles, this ammo is common used for concealed carry and, in larger pistol calibers, has even been used by hunters to successfully bag medium-sized game in the United States.
X-TAC is PMC's line of tactical rifle ammunition that's designed to help you neutralize a serious threat. These loads are common among militaries and law enforcement all over the world. In this line-up, you'll find M855 loads for AR-15 shooters as well as loads comparable to M193 55 grain loads and specialized packaging like Battle Packs that are ideal for preppers and long-term storage.
Quality Controls at PMC
All PMC ammo is manufactured to Mil-Spec or SAAMI standards. Each round goes through a thorough quality control process that includes computerized monitoring to ensure tight tolerances are met. Additionally, the folks at PMC function test ammunition produced as part of every lot before it leaves the factory. This includes checking for acceptable muzzle velocity and pressures according to the guidance provided by SAAMI. This rigorous testing helps ensure you're going to have a good experience when you buy PMC for your next range trip.
How Does PMC Maintain High Quality at a Cheap Price?
PMC owns non-ferrous metals production in the South Korean Market, sourcing from Asian countries. They are a large player in the industry that allows them to own the machines to produce the stock, to the equipment that loads the end-user components. PMC manufacturers their own primers, which isn't always the case among mainstream ammo producers. This in-house control allows them to make ammo that adheres to the highest quality standards.
PMC's Strategic Partnerships
The PMC brand has also held strategic important alliances with multiple manufacturers and producers in the Philippines (Armscor – some military and police lines in Asia region), Italy (Fiocchi – Shotshells), Russia (Murom – components), Mexico (Aguila - rimfire) and others.
South Korean Roots
The parent company of the PMC brand is and always has been the Poongsan Corporation based in South Korea. The PMC moniker has always been a global naming convention used by the company which stands for "Precision Made Cartridges". A vast majority of the confusion for their American based distributor/importer companies stems from the fact that they were always named using the PMC initials and followed a naming convention of the parent corporation and the global brand line name "Precision Made Cartridges".
The following names have been associated with the company's products since 1970, but do not change the oversight or management involvement of the South Korean parent company.
"Patton Metal Corporation"
"PMC"
"PMC-El Dorado"
"PMC-USA"
"Pan Metal Corp."
"Poongsan Metal Corporation"
Throughout the years, each of these names has at one time or another been associated with the PMC brand and has been (at the time) the preferred company behind the brand name (PMC). Currently, any and all of these names are floated throughout the shooting market in the United States as an interchangeable topline name for the company behind the brand.
Contrary to popular belief, the El Dorado ammunition company never owned the PMC company, and in fact was a mid level distributor for the ammunition which at the time was either 100% made in whole, in Korea or was assembled made from components manufactured in Korea (depending on the line being considered). This occurred in a plant in Boulder City, Nevada. Currently the American production arm of the Korean based company has a plant and a mailing address in the Houston, Texas area.
Poongsan Corporation – PMC's Parent Company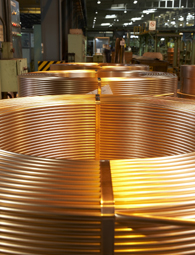 Poongsan Corporation as a global conglomerate company is a well-established corporation which is traded on the Korean Stock Exchange (KRX) under the ticker symbol (XKRX or under the identification umber 103140). It is a "blue chip" type of stock in the Korean financial market. They are a multi-billion dollar company (in sales).
They are a diversified operator of many different companies and are known as an ISO certified compliant manufacturer. A majority of their operations stem from non-ferrous metal production, or manufacturing and assembly of contract parts which contain such metal substances. They also have a large subsidiary that was spun off in 2008 and headquartered on Pyeongtaek, South Korea, incidentally the foundational changes were made on July 4th; it was a nod to the excellent relationship from a governmental and financial market perspective that Korea enjoys with the United States.
The company currently produces a substantially large portion of the coin blanks in use across the globe in gaming, and in currency production. Many of their operations in the United States are, surprisingly, NOT ammunition related (on the surface level) and the Poongsan America arm headquartered in Los Angeles, California is a manufacturer and distributor specializing in metal production machinery for all types of industry.
The company was originally founded by Chairman Chan-U Ryu (in 1968) and started in the ammunition business around 1970. They have since become a Pan-Asian powerhouse in the manufacture and distribution of military small arm munitions and have a large defense specific slant for their operations in the area, providing a lot of major police and military forces in the region with small arms ammunition.
PMC Ammo in the United States
PMC ammunition has a very robust sales history in the United States and is known for their ability to produce top quality ammunition at very low prices relative to market peers. That is to say: they produce very good ammunition at a cheap price point. When compared to peers, they are at the same level of production quality, and generally below or at parity with the pricing of similarly placed market offerings.
PMC Ammo Today
Today, PMC maintains a huge market presence in the military, law enforcement and recreational ammunition markets, among others. They are an accredited manufacturer operating under an ISO 9001-2018 (soon to be 9001-2015 under new guidelines) classification which guarantees their production from an inspection and standards perspective.
The impressiveness of the product line and the breadth of their capabilities as a manufacturer of munitions is only eclipsed by their prowess on the American shooting market for producing top quality, inexpensive brass centric ammunition that has always been quite well received by the shooting public. PMC Is truly a company well bigger than their single market influence seems to indicate on the surface level. The one of the biggest ultimate beneficiaries of their strength and capacity, being the shooters of their ammunition.
In Stock PMC Calibers for
Sale Today!
Latest Reviews