Barnes Ammo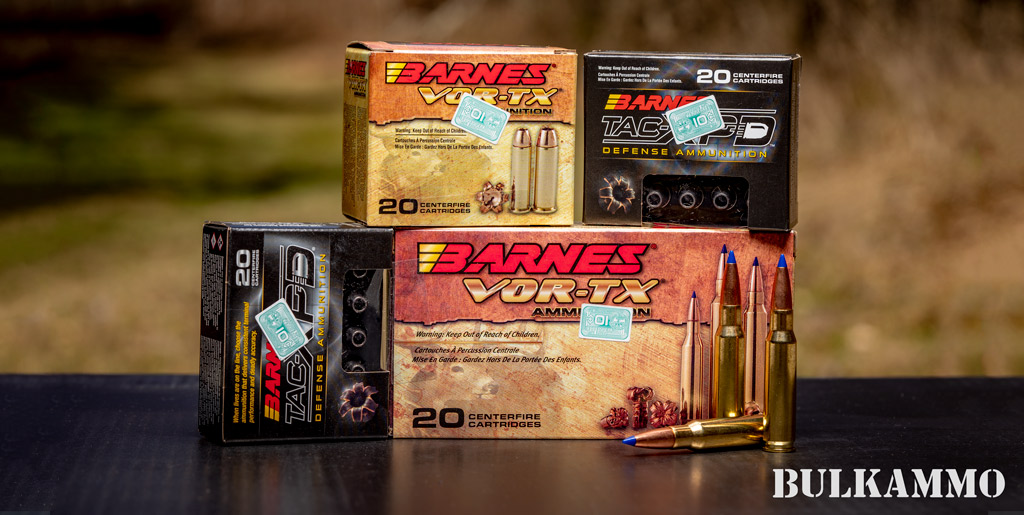 If you say the word "Barnes" to any serious recreational shooter, they'll immediately associate it with Barnes Bullets, who have been making high quality projectiles for reloading since 1932. But despite the name, Barnes also produces complete cartridges as one of the ammo manufacturing companies under the umbrella of the Remington Outdoor Company.
Barnes Bullet Company History
The Barnes story begins in 1932 in a basement, hidden away in the tiny town of Bayfield, Colorado. While Bayfield isn't what you'd call a bustling metropolis, in 1932 it had one very creative resident: Mr Fred Barnes. Fred was an avid hunter and sportsman who wanted more from his projectiles than he could get in a store, so like any entrepreneurial American, he started to make his own. Eventually Fred would sell Barnes to the Buford Corporation, only to have it sold again in the late 60s and renamed to Colorado Custom Bullets. Unfortunately, in this iteration the company was barely afloat. That all changed in the 1970s when Randy and Coni Brooks purchased Colorado Custom Bullets. One of their first actions was to move the company to Utah and change the name back to Barnes Bullets. Fred consulted with Randy and Coni for some time after the sale.
One of the first things Randy did after taking over the company was to introduce the Barnes Solid, a copper-zinc alloy bullet specifically designed for taking dangerous African game. While that is a small market, the Barnes Solid caught on with hunters and guides, and received a boost from coverage in the popular gun magazines of the late 70s. This boost was enough to keep Barnes afloat as a company, and allowed them to begin developing the bullet design that would become a cornerstone of their company.
Barnes X-Bullet - The Original
That bullet was the original X-Bullet, an all copper solid rifle bullet that would also offer expansion. At the time, rifle bullets for hunting were available in 2 styles: soft points/hollow points that offered expansion at the loss of penetration, and solids which offer massive penetration but no expansion. Randy wanted a bullet that would do both, and started designing the X-Bullet to do exactly that.
After years in development, Randy took an Alaskan bear with the X-Bullet in 1985, and in 1986 it was offered for sale to the public. The early years with the X-Bullet were tough, as Randy learned many hard lessons about manufacturing and metallurgy during that time. A layperson would think that all solid copper is created equal, but the wizards at Barnes were about to discover differently. It turns out that the best copper for bullets require a specific molecular lay of the grain of the metal. Barnes was finally able to source the specific copper they needed for the bullets, and the X-Bullet became widely available.
It wasn't without hiccups though, as early iterations of the bullet could cause excessive copper fouling in rifles of the era and would also create higher than normal chamber pressure. In response, the company did two things:
1) released its own painstakingly researched reloading manual, and
2) introduced its own copper solvent bore cleaner that would help hunters and shooters keep their rifles clean after shooting the X-Bullet.
Still, the X-Bullet had its skeptics. It wasn't until the late 90s that Randy really hit on a solution, which was to cut lateral grooves in the bullet. Now when the new design was fired, if copper was displaced from the bullet it had a place to go - directly into the grooves. Previously it would simply fuse to the bore, causing the infamous Barnes copper fouling. The new bullet design was called the TSX, and it would lead the way for Barnes Bullets for decades to come. In fact, the TSX is still available to this day, both as a component and in loaded ammunition.
New Century, New Bullets & Growth
The first decade of the 2000s was eventful for Barnes Bullets, as they moved into a new 75,000 square foot facility and introduced many new products for reloads. Muzzleloading bullets, and varmint bullets were added to their catalog, and of course 2nd and 3rd editions of their reloading guide were published. However, the biggest news for Barnes came in late 2009/early 2010, when the announcement hit that they had been purchased by then-Freedom Group, now Remington Outdoors. Randy Brooks would remain on with Barnes and lead the development of many new product lines. In the 2010s Barnes has focused on developing its line of complete cartridges, which include VOR-TX Rifle ammo, and the excellent TAC-XPD Handgun line.
For law enforcement and armed civilians, the TAC-XPD is an amazing option for a defensive round. Using their 115 9mm as an example, the sectional density on a light bullet is comparable to the SD of a larger, heavier bullet. This means that the TAC-XPD punches above its weight class in penetration while still providing FBI standard penetration. Additionally, the TAC-XPD loads exhibit superior penetration of intermediate barriers while retaining weight due to its all copper design.
Barnes Bullets also introduced two new lines of rifle ammo during that time period. The Precision Match load was developed in concert with the Remington Mk 21 Precision Sniper Rifle. This combination gives superior accuracy and terminal ballistics. Barnes also introduced a lead-free, zinc-core AR round for high volume competitive, defensive, and target shootings. The Range AR load is specifically designed for optimal ballistics in fast twist AR barrels, and thanks to its unique Open Tip Flat Base design does exactly that.
Barnes Bullets is still located in Utah to this day, and now after over 85 years is the undisputed industry leader in copper bullets. If you're looking for a hard hitting, deep penetrating hunting round, or a defensive handgun round that won't clog up, look no further than Barnes.
In Stock Barnes Calibers for
Sale Today!
Latest Reviews